Why is Water Leaking from my Air Conditioner?
​
When the summer weather hits, nothing hits the spot like relaxing with an ice cold drink. We're all familiar with the condensation that forms on the outside of our cold glass. What you might not know, is that your air conditioning system also forms condensation while cooling your home.
 How Condensation is Formed in Your Air Conditioner
It may seem counter intuitive, but your air conditioner doesn't blow "cold" into your home.  Instead, your air conditioner pulls out heat when air passes through your evaporator coil. As more heat is pulled out, the temperature of the air goes down. As the air cools, the water in the air cools down as well.  This is how condensation is formed, just like on the outside of your ice cold drink. In your air conditioning system, the water accumulates on the coil and flows out into the condensate drain. This helps to prevent damage to your system and your home.
Because of the condensation that naturally forms from running your air conditioner, it's normal to have more water drain under different circumstances.  If you are running your air conditioner more often and for longer periods of time, this allows for more moisture to be removed from the air.  If the current outside or inside air has a higher humidity, there is more moisture in the air to be removed.  In both of these circumstances, it is possible to see more water draining from your air conditioner than usual.  This would not be a cause for concern.
 Is This Normal?
However, there are times when condensation can indicate an issue with your HVAC system.  Here are some indicators it may be time to call a professional:
Water draining over window or door.

  Some HVAC systems are installed with a secondary condensate drain.  The purpose of this secondary drain is to continue draining the condensation if the primary condensate drain gets blocked or clogged.  It is usually run to drain over a noticeable area outside your home, like near a kitchen window or back door.

If you find that your air conditioner is draining water in a place like this, call your trusted service company to assess your drain and system.
Condensation in your vents.

HVAC systems are designed to remove the moisture from the air and evaporator coil before the cooled air circulates back through the ducts. Condensation inside your ducts or vents is an indication of a deeper issue with your duct system. Again, contact your trusted service company as soon as possible to assess your system.

Water leaking outside the drain system.

The condensate drain system should be designed to remove the normal condensation that accumulates from normal system operations.  It should also be designed to drain this water to a place that is safe and will not cause damage to the system or your home.  If you find water leaking from your system in any place outside of your drainage system, or it is overflowing from the drain pan or pipes, call your trusted service company.
If water is leaking from any other pipes or areas in your home, it is likely that you may have a plumbing issue.  Please contact your local trusted plumbing service company to assess your situation and avoid further damage to your home.
What You Can Do
 Like any other part of your HVAC system, proper installation and maintenance can help you avoid many common issues with the condensate drainage system. If the drain is installed at the wrong angle, it can cause the drain to backup and clog, not allowing it to drain the water properly. This can also occur if the drain is not properly vented and/or debris accumulates in the drain. A clogged drain can damage electrical components of your system, duct work, and parts of your home like drywall, carpet, or furniture that are near the unit.  This can lead to more serious issues like mold growth.
How to prevent condensate drain issues
Here's what you can do to help prevent these issues:
Have a safety switch installed.

A safety switch will turn off your system if the drain line backs up, helping you avoid drain overflow.

Have regular preventative maintenance.

Checking and clearing condensate drains is a regular part of routine preventative maintenance services. Having this performed in the spring before heavy usage months can nip a potential problem in the bud.

Change your filter.

While this is also a regular part of routine maintenance, making sure you always have a properly installed clean filter can help you prevent debris from getting into your HVAC system. It can also prevent other issues, like restricting air flow that can overwork your system.
 More Information
Still have more questions? Concerned about your system? Give us a call and we are here to help! If you are near the Menifee, CA area you can even set up an appointment to have one of our trained and experienced technicians evaluate your system. You can even book an appointment anytime online using the booking feature on our website!
Air flow is the most important factor to the efficiency of your HVAC system. Common problems with air flow can lead to hot and cold spots, unbalanced temperatures in certain areas or rooms, and high electricity bills for overworking your system. The comfort of your home rests greatly on the efficiency of your duct design and its compatibility with your HVAC units.
How Does a Ducted System Work?
In a central HVAC system, the properly-sized air handler/furnace unit pulls air through the return air vent, where it is pushed through the filter to the blower motor and then redistributed throughout the rooms through the ducts. It is important that your duct design is efficient and up to code to adhere to energy efficiency standards, health standards, and your comfort needs.
What Affects Duct Efficiency?
It is important for your duct design to be efficient and properly fitted to your home and comfort needs. Your expensive new HVAC system will not work properly if your ducted system is inefficient or in poor condition. Here are few factors that affect the efficiency of your duct design:
Depending on the type of home/building, the ducts can be located in the attic, basement, or a crawlspace. If the location of the ducts is not big enough to fit the size of ducts needed, this can cause air flow problems. Also, if the location of your ducts does not properly protect them from outside weather, sunlight, or animals, this can lead to extra deterioration of your ducts.
Duct insulation (R-Value)
The quality of ducts you install is important to prevent air leakage. The R-Value of the duct determines how well-insulated the ducts are and how much air leakage was reported in factory tests and lab settings. The minimum required R-Value for new installations of ducted systems is R-6.
The bigger the area, the longer it takes to change the temperature. This is why it is important that your ducts and units are properly-sized for each other. If your home requires a bigger unit for your comfort needs, your ducts should be larger in size to match the amount of air that needs to be pushed through your units. Likewise, if you have a smaller unit for a smaller home, if your ducts are too big then you will run into airflow problems as your unit works harder to try to push air through ducts that are too big.
Air leakage of duct system
If there are holes or gaps in your ducts, air will leak through and your system will have to work harder to balance air flow. Gaps can occur with lazy installation if cheap ducts or improper sealing materials are used, or poor design if ducts have to be stretched to reach air vents. Over time, stretched ducts pop-off or become detached and allow air to escape. Holes can be caused by exposure to weather, sun deterioration over time, or from rodents chewing holes and nesting in the insulation. Make sure that your ducts are properly protected from outside elements, and that any rodent issues are dealt with immediately to prevent further damages to your ducts.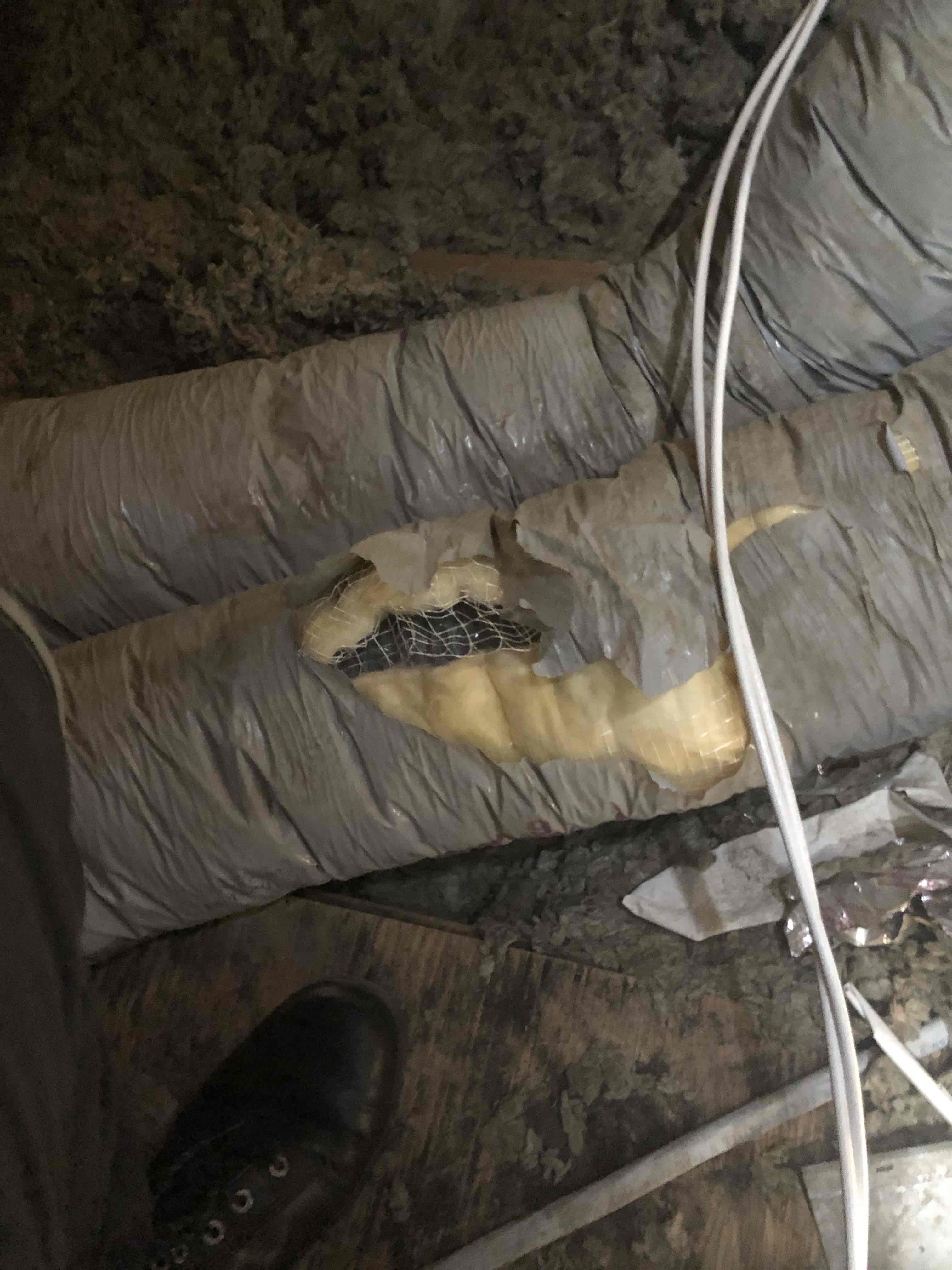 When you upgrade your HVAC units, make sure that they are properly-sized to your comfort needs and duct design. It's a common mistake to oversize your unit thinking that it will increase the efficiency of your system. In actuality, an oversized unit will increase air flow problems if it is not correctly sized with your duct design and comfort needs.
"HVACR systems function at 60-70% of their lab-tested efficiency if they are not installed properly" – The Air Conditioning Contractors of America www.acca.org​
It is important that you have a knowledgeable and trustworthy company design and install your duct system to ensure that it is properly sized, sealed, that proper materials are used to connect and close all gaps, and to ensure no ducts are kinked or stretched. They should also provide the proper duct testing and commissioning to make sure your system is up to standard for city and state energy efficiency codes. For a FREE ESTIMATE on upgrading or installing a new duct design contact us here. ​
Stamped Face registers/grilles
These are older style vents that are characterized by their one-way facing blades. Blades are set in place and are not adjustable. There may be blades that face different ways on the vent, but the direction of air flow is set in place.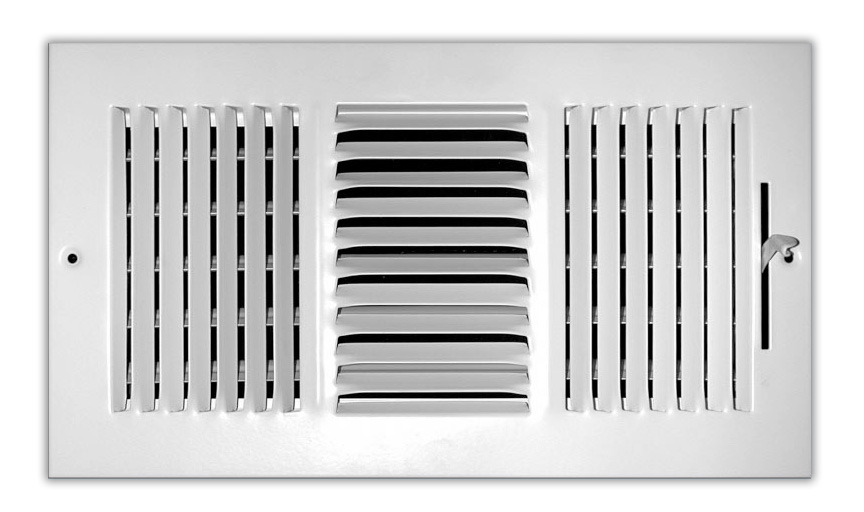 Bar Type registers/grilles
Bar type registers have adjustable blades that can open up vents for more or less air flow according to your needs. Bar type registers are rated for higher and better air flow than stamped face registers.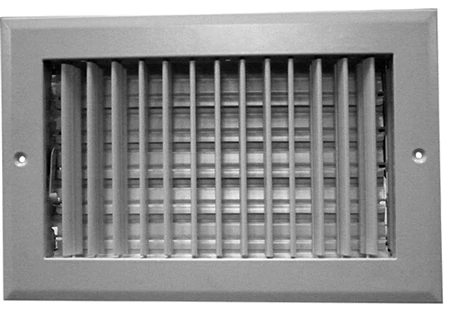 As far as filters go, the higher the MERV rating, the more friction is caused. Make sure that you install a filter that is appropriate to your system and comfort needs. If you are looking for a way to efficiently purify the air without disrupting air flow, call our office to ask about Trane Clean Effects.
Zoning is the separating of the home/building into different "zones" to direct air flow as needed. The purpose of zoning is to shift the HVAC system load to improve comfort.
Often times, traditional single-zone systems can leave hot or cold spots. For example, the upstairs may run hotter since hot air rises, or the East side of the house may be warmer in the morning because of the sun rising and directly hitting that side of the house. Also, rooms that are furthest away from the thermostat may vary in temperature, sometimes getting up to ten degrees warmer or colder than the area near the thermostat.
With zoning, dampers are added in the duct design and multiple thermostats can be installed depending on the number of zones. Zones can be divided to individual comfort needs so that rooms that are used more often are conditioned as needed. This can potentially save energy as only rooms or areas that are being used are conditioned as needed and no extra energy is being wasted trying to cool the whole house when only one area is being used.
At Castillo Heating & Air Conditioning, Inc. we can talk to you about your current duct design or a new design for your new system to give you the best comfort for your individual needs. Call us today for a FREE ESTIMATE on a new system or a new duct design.